Indigenous Peoples Day
June 20, 2022 |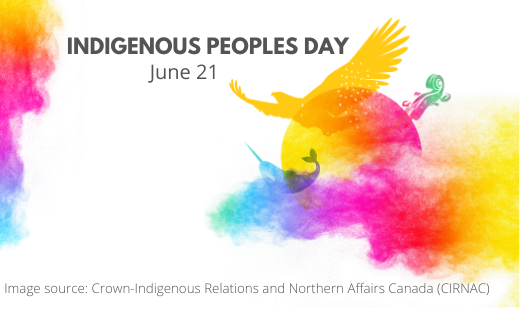 June 21 is Indigenous Peoples Day, a day to celebrate and learn more about Indigenous Peoples, places, and experiences. It is a simple step everyone can take on the path to reconciliation.
CPSM has spent the past few years reflecting on past harms inflicted on Indigenous Peoples in the medical profession and specifically in Manitoba. This involved listening to and learning from Indigenous perspectives and deliberating how to best move forward with meaningful actions to eradicate racism against Indigenous Peoples in medical practice.
We recognize that we are still learning how to respectfully take meaningful actions and develop relationships and partnerships with Indigenous Peoples, organizations, and communities to advance truth, justice, and reconciliation in the medical profession.
CPSM, with the guidance of Indigenous registrants, has formed a Truth and Reconciliation Advisory Circle. Led by Dr. Lisa Monkman, the Advisory Circle is comprised of Indigenous physicians, CPSM registrants, and other Indigenous scholars, elders, and knowledge keepers. The Advisory Circle operates in a spirit of inclusion and respect for the diversity of Indigenous cultures, communities, and experiences. CPSM is working with the TRC over the next number of months to identify key initiatives in our pursuit of reconciliation.
Resources to Listen, Watch, and Read
Whether you have 5 minutes or an hour, CPSM encourages registrants to dedicate some time this month to learn more about the diverse cultures, voices, experiences and histories of First Nations, Inuit and Métis peoples. In Indigenous cultures, knowledge is passed down through stories and voices and learning is accomplished by watching and listening. To honour these traditions, CPSM compiled a list of resources to get you started:
LISTEN
WATCH
A five-part anthology developed in part by the Canadian Medical Association, exploring the health and well-being of Inuit, Métis and First Nations peoples across five stages of life: birth, childhood, adolescence, adulthood and elderhood. Length: 35 minutes
Murray Sinclair on moving reconciliation forward in Canada
Murray Sinclair, former senator and chair of the Truth and Reconciliation Commission, discusses the steps Canada needs to take on the path toward reconciliation. Length: 15 minutes
Indigenous-made Films from The National Film Board of Canada
The National Film Board of Canada has compiled a list of Indigenous-made films.
Canada's unmarked graves: How residential schools carried out "cultural genocide" against indigenous children
This 60 Minutes segment which aired earlier this year, shares stories from residential school survivors. Length: 13:30 minutes
READ
Truth and Reconciliation Commission of Canada: Calls to Action
25 Books by Indigenous Authors
See a description of the header image visuals here.